Road collisions avoidance using vehicular cyber-physical systems: a taxonomy and review
Complex Adaptive Systems Modeling
2016
4:15
Received: 19 December 2015
Accepted: 6 July 2016
Published: 22 July 2016
Abstract
Road traffic is known to have its own complex dynamics. One implication of complexity is that road traffic collisions have become an unwelcome but unavoidable part of human life. One of the major causes of collisions is the human factor. While car manufacturers have been focusing on developing feasible solutions for autonomous and semi-autonomous vehicles to replace or assist human drivers, the proposed solutions have been designed only for individual vehicles. The road traffic, however, is an interaction-oriented system including complex flows. Such a system requires a complex systems approach to solving this problem as it involves considering not only pedestrians, road environment, but also road traffic which can include multiple vehicles. Recent research has demonstrated that large-scale autonomous vehicular traffic can be better modeled using a collective approach as proposed in the form of vehicular cyber-physical systems (VCPS) such as given by Li et al. (IEEE Trans Parallel Distrib Syst 23(9):1775–1789, 2012) or Work et al. (Automotive cyber physical systems in the context of human mobility. In: National workshop on high-confidence automotive cyber-physical systems, Troy, MI, 2008). To the best of our knowledge, there is currently no comprehensive review of collision avoidance in the VCPS. In this paper, we present a comprehensive literature review of VCPS from the collision-avoidance perspective. The review includes a careful selection of articles from highly cited sources presented in the form of taxonomy. We also highlight open research problems in this domain.
Keywords
Agent based modelling
Complex system
Cyber physical system
Collisions
Emotions
Road traffic
Vehicular cyber physical system
Background
Road traffic dynamics are complex in nature. According to Zhao (2011), road traffic demonstrates various complex systems properties like non-uniformity, non-linearity, and adaptability, hence, it can be considered as complex in nature. Manley (2014) notices that individual driver behavior and unpredictable movement choices are the key reasons of complexity in road traffic. In another research study conducted by Doniec et al. (2008), it is noted that the interaction of heterogeneous road users like vehicles, pedestrians, and cyclists make the road traffic a complex phenomenon. These complex road traffic dynamics imply that it can be difficult to understand the exact dynamics of road traffic. Often times, such systems are analyzed from the individual perspective. This is equivalent to limited the view of the forest and examining only from the perspective of the trees.
Due to the complex nature of road traffic, collisions are an unavoidable part of human life. World Health Organization (WHO) notes annual road collisions as the cause of almost 1.2 million deaths globally (WHO 2007). Particularly important to note here is that among these deaths, the younger population is more highly affected as reported by Patton et al. (2009). This matter is even worse in the case of people from underdeveloped countries which have a higher death rate in road collisions primarily due to a lack of proper road infrastructure as noted by Fink (2014). Pakistan bureau of statistics (Gulzar et al. 2012) has reported an annual increasing death rate of 3100 people in road traffic. Examining this situations, it is clear that human factors appear to be the key reasons in making road collisions unavoidable.
Human drivers are one of the major reasons of road collisions. According to Rumschlag et al. (2015) human drivers are the major reason of accidents due to various careless activities such as talking on phone or texting. Chan and Singhal (2013) note that cognitive distraction has become one of the major reasons of road collisions. Making or listening to phone calls also make human drivers one of the major reasons of the road collisions as noted by Lansdown et al. (2015). The prime focus of auto industry has been on introducing different levels of autonomy in individual vehicles but not much on handling a large number of vehicles. The forward collision warning system (FCWS) was introduced in Volvo cars as autonomy level 1 (Bengler et al. 2014). It only detects the chances of collisions and alerts the drivers in advance. In 2011 (Schittenhelm 2013), autonomous braking system was introduced by Mercedes-Benz in the S-Class model as autonomy level 1. Adaptive cruise control and lane-keeping functions were introduced in Tesla Model S vehicle as autonomy level 2 (Vogt 2016). Currently, Google a non-automaker company has tested its autonomous car, which meets autonomy level 4 (Lukic et al. 2008). However, these autonomous driving solutions for individual vehicles do not address all traffic related problems.
One possibility to provide comprehensive solutions to traffic-related problems is the vehicular cyber-physical system (VCPS). According to Reddy (2015), providing safer road environment is one of the goals of VCPS. According to Wolf (2014), vehicle control and operation is one of the classic CPS applications. According to Poovendran (2010), one of the basic function of CPS is the achievement of accident-free and efficient road transport. Autonomous vehicles (AVs), adaptive cruise control (ACC), lane departure warning, and early collision avoidance systems are the different types of VCPS. These VCPS are assisting humans without having the humans inspired design, which indicates an obvious cooperation gap between both current VCPS and drivers.
To the best of our knowledge, there is no comprehensive review of VCPS based collision avoidance in research literature. In this survey paper, we present a comprehensive review of VCPS based CAS. Further, open research problems have been discussed to indicate future research directions for the VCPS researchers.
Remaining paper is structured as follows. A comprehensive review regarding collision avoidance techniques is presented in "Collision avoidance using VCPS: a review" section. "Open research problems" section discusses open research problems. The paper is concluded in "Conclusions" section.
Collision avoidance using VCPS: a review
In this section the comprehensive review of VCPS based road collision techniques have been presented.
Road collisions taxonomy
The road collisions taxonomy is shown in Fig.
1
.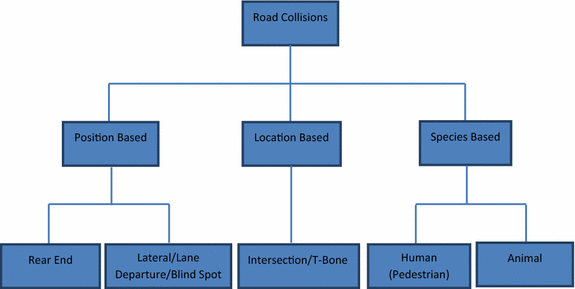 A. Position based
Position based collisions can be divided into two subtypes: rear end and lateral/lane departure.
a. Rear end
Definition According to Cabrera et al. (2012) rear-end collision is a transportation accident from where an agent assaults the back of another agent or vehicle.
The rear-end collision scenario is shown in Fig.
2
. Rear-end collisions have a major role in deaths and injuries happened in the USA. According to Harb et al. (
2007
) rear end collisions alone contributed one-third of the 6 million stated crashes in the USA in 2003. Furthermore, in 2009 total 3.54 million rear-end crashes happened in the USA and caused 1.078 million injuries and 2100 fatalities as reported by Chen et al. (
2015
). Also, front and rear end collisions have a substantial contribution in automotive-related trauma and long term injuries than other types of road collisions as noted by Nishimura et al. (
2015
). According to Poplin et al. (
2015
), front-rear end collisions cause 9000 cases of severe abdominal injuries every year in the US only. From these statistics, it is very much obvious that how important is to tailor the efficient rear end collision avoidance solutions.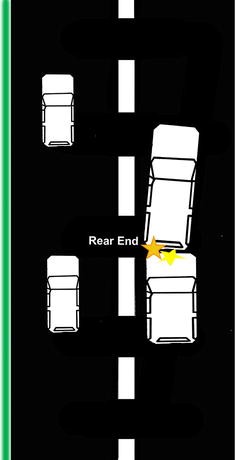 b. Lateral/lane departure/blind spot
Definition In lateral collision two vehicles traveling in parallel direction collides with each other side by side (Mon and Lin 2012).
The lateral collision scenario is shown in Fig.
3
. According to Wegman (
2004
) head-on or T-Bone collisions are the main reason for 60 % of all deadly collisions in economic co-operation and development (OECD) member countries. According to Rosey et al. (
2008
), head—on and intersection collisions contribute as 80 % of fatal collisions leading to the deaths and injuries in rural areas of Europe. According to National Highway Traffic Safety Administration (NHTSA), Intersection collisions contribute overall 47 % of all vehicle collisions in the United States in 2010 (Traffic safety facts
2010
). According to Wachtel and Lewiston (
1994
), 64 % of bicycle–motor vehicle accidents occur over intersections. Intersection collisions are considered as most typical collisions happened with old drivers.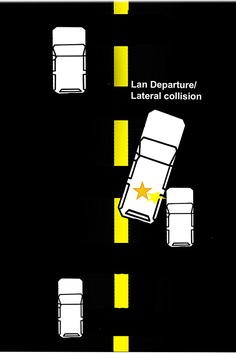 B. Location based
In this section, location based road collisions are described. Intersection/T-bone collisions falls in location based collisions. We have given the definition of intersection/T-bone collisions following its pictorial illustration and statistics.
a. Intersection/T-bone
Definition According to Chakraborty et al. (2011), when one vehicle collides in the side of another vehicle in a perpendicular fashion due to the violation of red-light or stop signals at an intersection, it is known as T-bone collision.
The T-bone collision scenario is shown in Fig.
4
. The world statistics of intersection/T-bone collisions are given as follows. According to NHTSA every year 840,000 blind spot accidents happen in the USA causing 300 fatalities. According to Trucks (
2015
), lane departure accidents are total 10 % of all accidents happened in Europe. According to Benavente et al. (
2006
), lane departure collisions are total 19 % of all accidents happened in Massachusetts from 2002 to 2004. According to Highway statistics 2013 (
2015
), only in USA, 5570 and 5345 people died in lateral collisions during the year of 2012 and 2013 respectively. According to Shasthri et al. (
2015
), children involved in lateral or side impact collisions have a high death rate than in front side collisions.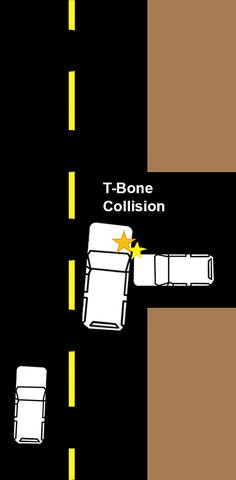 C. Species based
Species based collisions are divided into two subcategories, i.e. pedestrian and animal. We have presented statistics related to the pedestrian and animal collisions in sections a and b respectively.
a. Pedestrian-collision statistics
Deaths of pedestrians in road collisions are a tragic issue of human society. According to Crocetta et al. (2015), 1.2 million pedestrians die in road collisions annually, of which 35 % are children. According to Bennet and Yiannakoulias (2015), road collisions are the main cause of child pedestrians' death in Canada. According to Tulu et al. (2015), road collisions are the dominant cause of pedestrian deaths in Ethiopia. According to Koopmans et al. (2015), every year in the United States (US), around 900 child pedestrians are killed with an additional 51,000 injured.
b. Animal-collision statistics
Animals are also one of the victims of road collisions. According to Loss et al. (2014), collisions between vehicles and animals kill hundreds of millions of birds and other animals each year. According to Rowden et al. (2008), only in Australia more than 11,635 accidents happened between vehicles and animals in the time period of 2001–2005. According to Langbein (2007), 30,500 accidents happened in Brittan between deer and vehicles in the time period of 2000–2005.
CPS
Different phenomena of this physical world have their effects on humans' lives. As an instance, according to Carod-Artal (2016), health phenomenon like Zika virus affected badly approximately 1.5 million people of Brazil. According to World Health Organization (WHO 2009), the phenomenon of road accidents affects almost 1.2 million people on the yearly basis. According to Hilhorst (2002), natural disaster phenomenon like earthquake affected about 8 million people in Nepal. In the light of the above studies, there is a need to have such mechanisms, which makes this world a better place to live by minimizing the effects of these phenomena.
Cyber-physical systems may help to make physical world a better place to live. As reported by Lee et al. (2010), CPS can help to solve the grand challenges of transportation, healthcare, manufacturing, and energy. By integrating computing devices with internet, noted by Baheti and Gill (2011), affects of global warming can be minimized. According to Lee (2008), the quality of human lives can be improved by adapting CPS related applications. Hence, the concept of CPS is currently used in different domains to improve their performance.
Open research problems
In this section, open research problems are discussed to help the researchers working in VCPS related field.
Conclusions
Road accidents are caused due to numerous reasons. The goal of the current review is to give an extensive review of literature related to collision avoidance solutions primarily with a focus on the aspects of communication in the domain of vehicular cyber-physical systems. We suggest the use of emotions and affective computing as well as a novel taxonomy for understanding VCPS concepts. The idea is to assist researchers in locating key references for existing collision avoidance solutions. We have highlighted how neglecting the cognitive state of drivers in autonomous and semi-autonomous vehicles can severely affect the design of future VCPS systems. We believe that the presented review will expand the horizons of understanding in the domain of VCPS.
Declarations
Authors' contributions
FR and MN have equally contributed to the paper in both drafting the manuscript as well as revising it. Both authors read and approved the final manuscript.
Acknowledgements
We are thankful to MUST and COMSATS for facilitating us in this project.
Competing interests
The authors declare that they have no competing interests.
Open AccessThis article is distributed under the terms of the Creative Commons Attribution 4.0 International License (http://creativecommons.org/licenses/by/4.0/), which permits unrestricted use, distribution, and reproduction in any medium, provided you give appropriate credit to the original author(s) and the source, provide a link to the Creative Commons license, and indicate if changes were made.
Authors' Affiliations
(1)
Department of Computing-Iqra University, Islamabad, Pakistan
(2)
Department of Computer Sciences-COMSATS, Islamabad, Pakistan